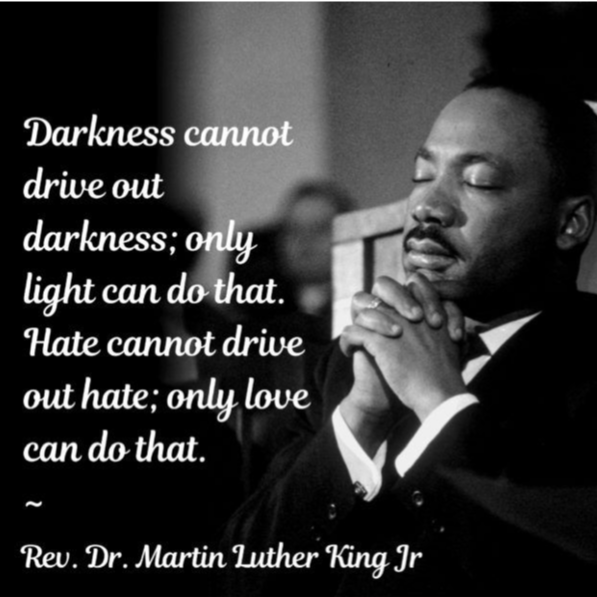 Presented to the First Congregational Church of Salem, NH January 17, 2021
"Darkness cannot drive out darkness: only light can do that.
Hate cannot drive out hate: only love can do that."
Beloved, I invite you to consider those words – for a moment. Consider the blessed meaning behind those words written by a man – a prophet – my hero, Martin Luther king Jr. Consider those words and remember that this person fought and died for racial equality in a time when racism was rampant. People were being murdered by mobs because their black body dared to speak to a white body, dared to speak up for themselves, dared to consider themselves human. This society is where King lived when he, with his black body, said: "Darkness cannot drive out darkness: only light can do that. Hate cannot drive out hate: only love can do that."
Do you hear the message behind the words? The gift of hope King shared with us on that day in 1963. Can you witness the light of Christ in those words – the love King shared with us even though all around him was hate and darkness? I pray that you do – I pray that you hear the message of love in those words. The message which reveals how to walk in the love of God. That said, I believe King's message of love is needed as much today as it was then. For, the message behind those words is not about what justice we are seeking but how we are seeking that justice. How are we confronting racism – hate – division in this world? How are you confronting these atrocities? Are you using darkness – hate – violence to drive out racism? Should you? Should our society? Should I?
Or are we called to follow the path of Christ – walking with a prophet who shared love for all people, even the people who hated him. As you consider which path you should follow, as Christians, let us pray.
Holy Christ – Son of God who is the Light of the World – our beacon of Love – our guide on the way to the kin-dom – soften our hearts to the enemies we see around us and help us learn how to share Your Love with the whole world. May the words from my lips and the meditations on all our hearts be pleasing to You, God.
Now, beloved, on January 6th, 2021 – just last week, another atrocity happened in this country. One which shook me to the core – one which I consider the antithesis of Christianity – one which I believe reveals the evil path so many in this country have chosen to take. And let me be clear, I am speaking about the violence which happened in our capital – the use of darkness to drive out what these souls considered darkness – the use of hate to drive out what these souls considered hate. And, I unequivocally say there is no justification for this violence. Much like I believe there is no justification for the violence which has been part of our life for the last year. No justification: but that does not mean this horrible act of violence at the capitol was not expected or even inevitable because…
because, I believe we have been using darkness to drive out darkness. Hate to drive out hate and this horrible event is the inevitable result.
The sad thing is most of us do not even realize our part in these events. We are simply speaking our truth to power – calling out bad behavior – being intolerant of the intolerant. Yet how does calling a person names, cancelling their humanity, or silencing their beliefs drive out the darkness we see as darkness? What darkness are we even trying to drive out when we witness a person of a different ideology – like a republican or a democrat – and call them all racist or all socialist. Are we trying to get rid of the socialist and racist darkness or the darkness that is democrat and republican? I seem to think the latter. I seem to believe that over the last four, twelve, twenty years there has been a growing push to drive out the "other" political ideology and this has percolated into the violence of last week. We see this reality happening when we judge every person at the capitol protests and riots as a racist. Yet, we know they cannot all be racist. Not every person is a racist who believes in one political agenda. But after four years of being silenced, cancelled, and called names for their political identity; what did we think would happen? Did we really think that the rhetoric of division which happens in Washington, on the news, in our grocery stores would not explode?  What do you expect will happen when our brothers and our sisters are called names, cancelled, and silenced for over four hundred years? More violence – looting – riots, like those of last summer.
I believe more violence will happen; because, we have witnessed this frustration percolate out in the silencing of white voices in the discussion of racism; in the cancelling of white monuments which glorified our racist heritage; in the generational trauma of black bodies who use language which may seem angry – hateful – or yes even prejudice to white bodies. We have witnessed these inevitable events quite often over the last many years and for many of us who are called by God to be one with all people in the kin-dom, it becomes difficult. Difficult because we do not know how to help – how to end racism – how to stop the systemic tragedies of racism which are boiling into violence. Difficult to do the hard work of discipleship; therefore, we take the easy path and use darkness to defeat darkness – hate to defeat hate and the cycle of violence continues.
However, there is another way – beloved. The way of the disciple revealed to us through the Apostle Paul in his letter to the church of Corinth, a church which was being destroyed. Not from the greater Roman civilization, but from the conflicts inside – from the people judging one another within the community – from the divisions being created through darkness and hate. To these souls, Paul reveals another way. He first confirms the Corinthian conviction, according to the theologian J. Paul Sampley, of their own perception in the form of a maxim, or an accepted "truth" that "all things are lawful for me." Yes, Paul agrees all things are lawful – permissible. We all have free will to do what we wish. He then counters this "truth" by saying, "not all things are beneficial… I will not be dominated by anything." Not all things are beneficial – not dominated by anything. Not dominated by the hate – the darkness which our people – our human beings – our society has been dominated by for over four hundred years. In my heart, I believe hate does do just that – dominates and controls our actions. Paul offers this simple addition to the maxim as a guide to disciples to not be dominated by evil. He also offers the addition that not all we do is beneficial – which comes to the core of our message today. Yes, you may do anything – you may use darkness to drive out the darkness – be dominated by the hate when you use it to drive out hate. Yes, you can do this especially because Jesus believed in justice; but – but, is this path beneficial – beneficial to you – to society – to me? Should I call people names, cancel them, silence them when I find their acts of violence, prejudice, and racism to be the darkness of hate. Is this beneficial?
Our psalm this week, seems to say – no – no we should not – not because it is not permissible – because it is only God who knows what lies in our hearts – only God who knows our path; and only God who may judge me, you, or anyone. For, only that in-depth knowledge can judge fairly – with equity – our actions and inactions in this life. I do not know what lies in the hearts of the person who rioted at the capitol; so, how can I fairly judge them as a racist? How is this beneficial to our unity under God?
This message, beloved, does not mean we accept the hateful actions of people – it means we confront these actions with love – with understanding – with compassion; so, we may all be one with God as one people in the kin-dom to come. It means we share compassion when confronted with people who are suffering from generational trauma by listening with our hearts. Listen to the meaning behind the anger which is percolating through abusive language. Hear the person's heart and understand what the black body has and is enduring every day in our world. It means we share love when confronted with history being destroyed by offering another way; for, we cannot forget and relive the darkness of our past. This way of discipleship means we share love by stepping back out of the conversation – to listen – to listen with our hearts all the ways black bodies feel the world is inequitable to them – we hear their hearts not so we can fix the situation but to support – we witness their hearts not to drive out hate with hate; but share love together as one people through God.
This good news, beloved, is the first step and what I believe King shared with us in 1963. This message of hope is how we end racism, divisions, and violence – through Love. By loving one another so much that we set aside the offences and love the person before us. The child of God within them and the child of God within each of us. It is a message which requires us to ask the very real question: Should I? Not once or twice; but every single time we are confronted with violence, hate, and darkness. Should I react with darkness to drive out those racist thoughts? Should I hate them back because all I see is their hate of my skin? Should I resort to violence when violence is thrust upon me? Should I – should you – should we, as a people, react with the violence, hate, and darkness of divisiveness when a group of individuals riot on our streets or at our capitol. Should we be controlled by that darkness or should we lovingly witness the person, understand their situation, and share compassion for them? While we let our courts – not us – make sure they are accountable for their actions. Should I walk in the way of darkness or in the way of Christ – our light in the world. Beloved, all may be permissible but only the light of Christ is beneficial. May Christ's light guide you every time you are confronted by evil and let the love of God drive racism from our world. Amen.