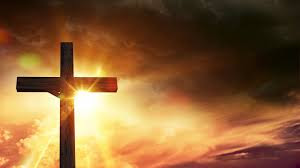 Presented to the First Congregational Church of Salem, NH April 4, 2021
Happy Easter, beloved, the journey of darkness is over, and He is Risen. Love is … Wait, I mean Christ is Risen. Not yet at-one with the Father; but has conquered death and Love is… One moment, I mean not yet at-one with God. The prophecies are now fulfilled as the only begotten Son is revealed as our messiah on this Easter morning. Love is …difficult to express. Difficult to express in today's world when we are in the midst of many – many different journeys of shadow. Words get in the way of expressing the beauty of this Easter morning. Words get in the way of having a conversation about the shadowy journeys we are walking in throughout this life. Words get in the way of embracing the celebration of Love Revealed on this Easter morning. However, words are important as they allow us to reveal the light of Love, like never before.
Before we begin, would you pray with me
Holy Loving God, who revealed Your Love for us on this Easter morning, open our spirits to Your Love once more – reveal its beauty and make us whole through Your Word. May the words from my lips only speak of Your Truth, o' God, and the meditations on all our hearts be pleasing to You.
Now beloved, our world today is struggling with many different journeys of shadow. And I like that phrase – especially today – for it shares a different reality than simply saying a social justice movement – an issue – or even the sins of our world. This phrase changes the context to imply that these sins have not come to an end. And, that understanding is healthy; for, they have not. We are not in the kin-dom with Christ – yet. We are still on these earthly journeys along rocky paths. Sometimes the wind is at our back with a smooth downhill road. Sometimes the path takes us up the sheer climb of a mountain with a death-defying breath in each and every handhold. And sometimes – sometimes we witness the glory of Love revealed. Revealed when we come to an oasis in the desert – as people start to think differently about a journey of shadow.
And we have seen these rest stops on the various journeys – many times. In fact, I am sure each of you – can recall at least one of these glimmers of paradise when Love has been revealed. Perhaps the end of slavery came to mind – though the journey of equality is not over as our society still struggles with racism; maybe, the affirming love we have here for the LGBT+ community – though this journey of equality is not over as this love is not fully revealed to all; or perhaps you thought of equal voting rights, an end to required gender norms, and an increase in educational resources regardless of gender – though this journey of equality is not over as we are still struggling to understand one another, and words get in the way.
Words get in the way like in our scripture this morning from the Gospel according to John. For, the author reveals something that is often overlooked: Mary Magdalene came to the tomb – alone, a clear difference from the other Gospels. Yet, when Mary refers to not knowing about Jesus' whereabouts, the word used is "we" – "we do not know where they have laid him." This point changes the context according to the theologian Gail O'Day who understandably believes that the author is not only having Mary represent all followers of Christ; but also, Mary is "ironically echo(ing) one of the decisive misunderstandings of Jesus' ministry" i.e., "whence Jesus comes and where he is going." So, why did Jesus come? To save us from sin as the Gospel of Matthew does explain Jesus "will save his people from their sins." I believe so; but does the scripture tell us how we are saved? Not precisely and this difficulty along with the word "sin" becomes the basis for the misunderstanding around Jesus' ministry of why he came, especially because there is still sin in the world – journeys of shadow – the Way has not been achieved in the kin-dom of God, for us – yet. Therefore, we fumble with words – not fully understanding Jesus' ministry or where he went.
However, the ambiguity of words throughout the Gospel of John also allows us to witness the Good News on this Easter morning – witness a reprieve from the gender equality journey of shadow – and witness God's Love…revealed. For, here in this passage Jesus says, "go to my brothers and say to them, I am ascending to the Father and your Father, to my God and your God." On the surface, this good news alone is beautiful; for Jesus by using this double identification formula of "the Father and your Father…my God and your God" is sharing that what is true for Jesus is now true for all the disciples. Moreover, this truth of the Way is for all of us as Mary is, as you remember, representing all the faithful throughout this scripture.
Further, this beautiful representation of equal leadership in the early Church is highlighted by the word, "brothers." Not because of how we understand the word in English today or not even fully because Mary is the one commanded to bring this message, but because the original word in Greek was "Adelphos" which is not gender limiting, here. In fact, the word is being used inclusively to identify all of Jesus' disciples as his family according to O'Day. Much like today when we use the word "guys" to inaccurately, and sometimes harmfully, describe a group of men and women. Again, words and the misunderstanding of words get in the way of witnessing the inclusive beauty of what we are trying to say and our scripture which does welcome all people into the kin-dom of God. Yet, when we know the context of the place, culture, and time – then – and only then is the Good News revealed.
Still, one part of the story eludes us: The Love revealed today? For me, this part is the most beautiful aspect of our scripture reading and the gift from God which is now revealed to all of us because Jesus brought us all into his family. That aspect is the word "Father" and the relationship with Jesus as God's "Son." Now, I imagine the understanding of Father in reference to God could and does seem harmful to some people, especially as God created us all in the divine image and we humans have a hard time thinking beyond the physical image of a body, of a male or a female body, of gender identity. However, the reality is that we do not know God's gender. Is God male as represented by Jesus – female as represented by the Holy Spirit – both?
We do not know; for, our words are broken, and this truth is why I refer to God as both he and she. That said, we do understand the relationship between a loving parent and a child. We understand the love a Father must have when he watches his Son struggle on a journey of shadow; so, other children may see the Way. I can only imagine the many loving Mothers amongst us must also understand the immense Love God has for all of us to allow harm to come to her child; so, we may all witness the Way through the journeys of darkness. Imagine that for a moment, could you do what God does and allow your child to suffer – so, all your children could find their Way. Could you allow one parent to suffer – so, all people could possibly find their way back to you. The amount of Love that God reveals to us is the Good News beloved – it is a love I cannot imagine but this is the Love that God reveals on Easter morning. How are we revealing Love to God? Are we embracing these journeys of shadow and revealing God's Love to one another? Are we climbing those mountains – risking all to reveal Love in every breath – are we listening to the meaning behind broken words and trying to find the Way to hold one another in Love? I pray that you are as our journey is not over – yet. Jesus' journey of shadow is over when he reveals the Way to be free of sin along these journeys of shadow. But beloved disciples, our journeys are not yet over as we are not in the kin-dom, yet. So, let us remember the Love Revealed through God, Christ who shows us the Way, and the Holy Spirit which breathes divine Love into every one of our lives. May you always witness God's Love Revealed and be a reflection of that Love as we walk through the journeys of shadow – together. Amen.