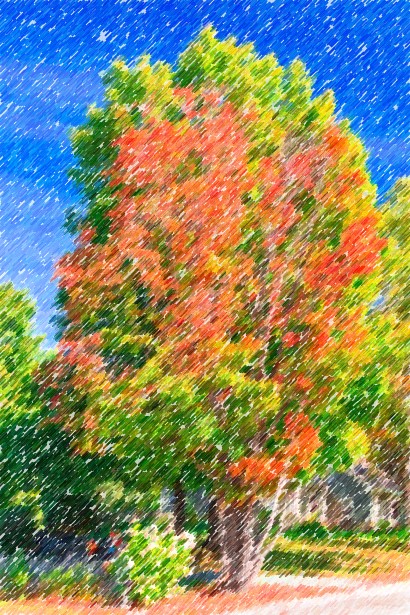 Hello beloved, 
I pray you are all doing well on this beautiful fall morning. The changing leaves this morning reminded me that God's beauty is all around us every day. And as I watched the burgeoning reds and yellows – the golds and oranges, I did think about how they would all turn brown soon. Rather, God turned my heart to the way the tree began. From a simple sapling. Saplings which, over time, had broken free from the hard seeds that confined them. Released from their prison, the sapling started to grow – force its way from the ground. Withstood storms and weather year after year until it grew into the magnificent giant trees with multicolored leaves, which fly past us as we speed down the highways – today. 
In all this glorious beauty, I wondered why the sapling grew, climbed from the ground, broke free of the shell which bound it in birth? Did the sapling grow out of duty or from inspiration? 
I wondered for a moment and thought, it is just a tree. That is what trees do, right? But then again, I looked to witness the trees bending to the light. Each limb climbing higher and higher. Struggling to find its way to the sun. Oh, maybe I was wrong, and the tree is inspired by the sun – by the light – by the love God created in the world. Either way, we will never know for these are trees. Maybe though, we are not really speaking about trees – at all.
Maybe – just maybe – the beauty I saw this morning was really – all of you. Striving for the Son – the light – the love God created for all. At least, this truth is my hope. My hope that you are inspired by God in everything you do. Inspired by God to teach, to clean, to sell your wares. Not out of duty, for, duty will only help you do the barest minimum in this world. No, I hope you are inspired – inspired by God and the magnificent beauty around us every day. Inspired to love your family, your fellowship, your neighbors. Inspired to be the tree climbing higher and higher towards the light.
In these moments of life, I pray that you – let God inspire you – in everything from the mundane to the beautiful – from the Heavenly gifts to the simple stones – from everyday work to our worship together as one amazing fellowship. And may we all be inspired as live in God's Creation – together.

your pastor and teacher, Brian
During this fall, let us consider how to live out our love. Remember love and faith is not just a feeling but an action we do every day. Feel free to text, call, or email me always to share as I am here to support you and your relationship with God wherever you are on the journey. My number is (207-350-9561) if you need anything or simply want to talk. Next week, I have been called to celebrate some of that love in our world through Angel's son's wedding. Therefore, I will be on vacation through the ninth of October. Many blessings to you all.